Google Tricks That Will Change the Way You Search
Use quotes to search for an exact phrase
This one's a well-known, simple trick: searching a phrase in quotes will yield only pages with the same words in the same order as what's in the quotes. It's one of the most vital search tips, especially useful if you're trying to find results containing a specific a phrase.
Google is your portal to everything out there on the World Wide Web…but also your portal to more and more of your personal stuff, from the location of your phone to the location of your Amazon delivery. If you're signed into the Google search page, and you use other Google services, here are nine search tricks worth knowing.
It probably goes without saying but just in case: only you can see these results. Nobody else can Google your next hotel trip. How well they work is going to depend on how plugged in you are to other tools like Gmail, but they're useful shortcuts from the Google homepage or the Chrome address bar.
"I've lost my phone"
The newest one in our list, which is essentially an easier way to get to Android Device Manager. Google "I've lost my phone" to see the last known location of all the phones linked to your Google account. You can call and lock your phone as well as locate it, and it works with both Android and iOS devices.
"Contact <name>"
Get at your Google Contacts straight from the Google search page with this trick, simply adding the name of one of your friends or family members after the "contact" keyword. If there's more than one match found, you'll see a list of options—click on any of the results to initiate an audio call over Hangouts.
"My flights"
For a while now Gmail has done a very good job of spotting travel plans hidden among your email messages (it's basically what Inbox is built on) and if you Google "my flights" you can see past and future trips through the air. Expand any entry in the list to see flight numbers, times, and other salient details.
"My hotels"
The "my hotels" search works just like the flights one, with Google tapping into your inbox to bring up all the hotel reservations you've made. Again, click on any entry in the list to see the details—you can jump straight to the relevant email in Gmail, get directions to the hotel, and see older reservations too.
"My bills"
You probably don't want to be reminded about upcoming bills you've got to pay or about any money going out of your bank account, but just in case… "my bills" will find it for you, provided that there's some kind of record in your Gmail account. If you want any financial assistance, that's a separate Google search.
"My events"
A quick way of setting everything that's coming up in your Google Calendar. You can also run queries like "when's my next appointment?" or "what am I doing next week?" to get personal answers from Calendar. Click on an entry to see dates, times, descriptions and a list of the guests signed up to attend.
Millions of people use Google search every day for a variety of reasons. Students use it for school, business people use it for research, and millions more use it for entertainment. Did you know that you may not be using Google search to its full potential? Here are 20 tips and tricks to maximize your search efficiency.
Use the tabs
The first tip is to use the tabs in Google search. On the top of every search are a number of tabs. Usually you'll see Web, Image, News, and More. Using these tabs, you can help define what kind of search you need to do. If you need images, use the Image tab. If you are looking for a recent news article, use the News tab. It's rudimentary and most people use the tabs already. If you are not, then it's highly recommended to get associated with them. They can cut search times dramatically if utilized properly.
1. Exact phrase
The simplest and most effective way to search for something specific is to use quote marks around a phrase or name to search for those exact words in that exact order.
For instance, searching for Joe Bloggs will show results with both Joe and Bloggs but not necessarily placed sequentially. Searching for "Joe Bloggs" will surface only those that specifically have the name Joe Bloggs somewhere on the page.
The exact or explicit phrase search is very useful for excluding more common but less relevant results.
Exclude terms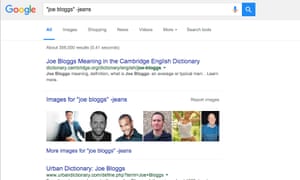 If exact phrase doesn't get you what you need, you can specifically exclude certain words using the minus symbol.
A search for "Joe Bloggs" -jeans will find results for Joe Bloggs, but it will exclude those results for the Joe Bloggs brand of jeans.
3. Either OR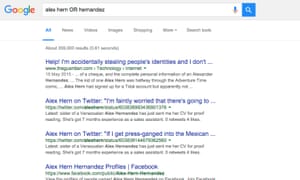 Default text searches find results with all the words of the query. By using the OR term you can search for one or another term, not just all the terms. OR searches can be useful for finding things that you're not sure which term will be used from a known list.
4. Synonym search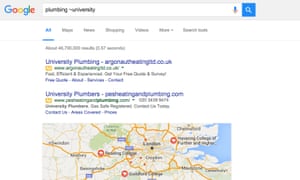 Sometimes it's useful to search for a less specific term. If you're not sure which term will be used you can use synonym search.
Searching for plumbing ~university will bring up results for plumbing from colleges as well as universities, for example.
 Search within a site
The search engines of most websites are poor. You can search using Google instead by using the site or domain limiter.
Searching with site:theguardian.com followed by a search term, will find results from only theguardian.com. Combining with explicit search terms makes it even more powerful.
The power of the asterisk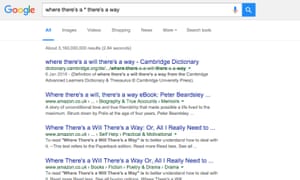 Like the blank tile in Scrabble, the asterisk works as a wild card within searches. It can be used in place of a missing word or part of a word, which is useful for completing phrases, but also when you're trying to search for a less definite article.
A search for architect* will search for architect, but also architectural, architecture, architected, architecting and any other word which starts with architect.
Searching between two values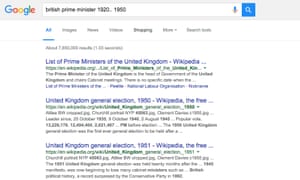 Searching for something with a qualifier between two ranges is a good way of answering questions. For instance, if you're looking for the who were the British prime ministers between 1920 and 1950 a search using british prime minister 1920.. 1950 will bring up results with dates ranging between 1920 and 1950.
That's your search term followed by two full stops and a space.
 Search for word in the body, title or URL of a page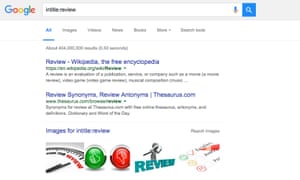 Sometimes you only want to find text either within the URL, body or title of a page. Using the qualifier inurl: will search just within the url. The qualifier intext: will search within the body, while intitle: will search only within a page title.
Search for related sites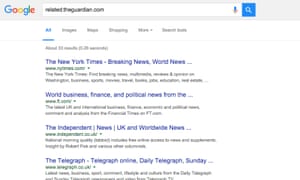 The related qualifier is useful for finding similar sites. Searching for related:theguardian.com for instance, will bring up the websites of other news organisations that Google deems the most similar to the Guardian.
Combine them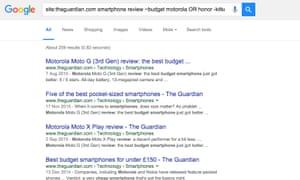 All these search tools can be combined to narrow down or expand searches. While some of them may be used only rarely, some such as explicit phrase searches are useful in almost all cases.
As Google and other search engines improve their understanding of the way people naturally type or say search queries, these power tools will likely become less and less useful – at least that's the goal that search engines are working towards – but that's certainly not the case at the moment.